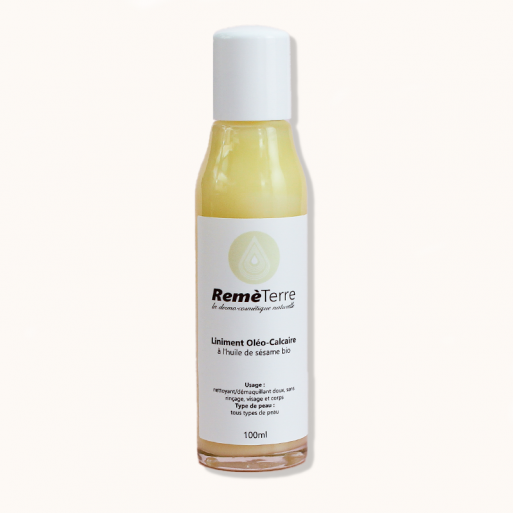  
Natural Makeup Remover
To try it is to adopt it!
Extremely gentle and creamy, the oleo-calcareous liniment RemèTerre eliminates traces of make-up and impurities in a single gesture. Effective even on waterproof makeup, this ultra-soft cleanser is rinsing free. It is suitable for all skin types, even the most sensitive. Moreover, it is also perfectly suited to cleanse the skin of babies.
Composed of organic sesame oil - an oil rich in essential fatty acids and antioxidants - and limewater, this make-up remover cleanses your skin effectively and without assaulting it. In addition, thanks to the high vitamin E content in sesame oil, this make-up remover works against the signs of ageing.
For adult skin, it is advisable to apply our Green Lotion immediately after using the makeup remover to restore the skin's pH (by rebalancing the skin's levels of acid and alkaline). This lotion has astringent, purifying and soothing properties. It is particularly recommended for combination, oily, blemished skin.
The most of this product:
It is soft on the skin and without rinsing.
Very effective even on waterproof makeup.
Cleaning children's facial skin and bottom.
This product is 100% Natural, Cruelty Free and Vegan. 
See description below for more information.
Also check out our make-up remover pack + washable make-up remover discs by clicking here.
What is an Oleo-calcareous liniment?

Initially, it is a mixture of olive oil and limewater. Historically, oleo-calcareous liniment has been used to cleanse baby's bottom. It soothes any redness caused by nappy rash and strengthens the cutaneous barrier by leaving a valuable protective film which prevents the discomfort caused by urine or stools.

Later, it was used as a make-up remover and it proved extremely effective! The only constraint: it must be stirred before using because the oil and limewater separates into two phases.


Why did you choose to make a liniment with sesame oil?

We have chosen to offer you a liniment with sesame oil because it is an oil rich in essential fatty acids that brings a restructuring and softening action to our product. Rich in antioxidants, it offers this makeup remover properties that helps fight against aging of the skin. To read our article on the benefits of sesame oil, click here.

Good to know: you should always shake the bottle before each use to homogenize the mixture. Also, our oleo-calcareous liniment has a neutral ph (it varies between 7 and 8 depending on the batches) while the skin of an adult is slightly acidic. After liniment make-up removal, it is advisable to apply our green lotion to restore your skin's ph faster.


Can this make-up remover be used in case of rosacea?

Yes, this make-up remover is perfect for red glow-prone skin. Virginia, the designer, was suffering from rosacea acne. Now his routine is this: this make-up remover followed by green lotion or flower water and his skin is doing very well. Virginie recounts her experience through an article on the blog https://www.remeterre.fr/traitement-de-couperose-experience/

Many clients who suffered from redness are also satisfied with this make-up remover.



Save money by choosing the liniment-lotion pack.

The box including a make-up remover/Oleo-calcareous liniment + a lotion + washable make-up remover discs and wash net.

To learn more about the lotion, click here.
Data sheet
Conseils d'utilisation

1 - Shake the product before each use. 2 - Pour the liniment over a cotton pad. 3 - Make-up remove/clean the skin without rinsing it.

Précautions d'emploi :

Sesame oil can be allergenic. This product should not be used in allergy-prone people (example: nuts allergies, etc.). If in doubt, do a test in the bend of the elbow.

Ingrédients INCI :

Sesasum Indicum Seed Oil*, Calcium Hydroxyde.* Organic Ingredient

Volume

100 ml /3,51 fl oz
No customer reviews for the moment.