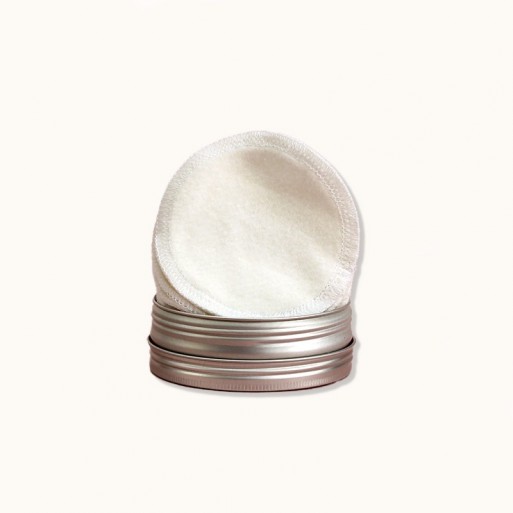  
Makeup Removal Pads - Hemp & Organic Cotton
Made in France of hemp fleece, these reusable makeup removal pads are gentle on the skin and eliminate the need for disposable pads. 
Ecological, these 8 discs of hemp/organic cotton fleece makeup removers will replace your disposable cottons!
Discs comes with a zipped net bag so as not to lose them in machine washable.
They are an economical and environmental choice! 
There are 8 pads in a pack made from 55% hemp and 45% certified organic cotton.
Health and Environment: BPA-free, phthalate-free, PVC-free and lead-free, compostable.
The most of this product:
Enjoy the softness of cotton and the anti-fungal and anti-bacterial virtues of hemp.
Thanks to the zipped net bag, you won't lose your discs in your washing machine!
This product comes in an aluminum box to keep the discs safe from dust.
The box and make-up remover discs are made in France.
The discs withstand more than 300 washes.
To learn more about this product, see the description below.
Why did you choose to offer wipes that contain hemp?

Hemp is a very resistant plant that naturally has anti-bacterial and anti-mould properties. Knowing how to defend against attacks, to grow this plant, no need for pesticides, insecticides or fungicides making it an ecological plant.
It is of course that we decided to propose a fabric composed of both hemp and organic cotton. Indeed, although the cotton we use is organic, it should still be stressed that cotton is very water-intensive - a resource that is becoming increasingly scarce. That's why we prefer to offer a fabric composed almost half in hemp.
What is the advantage of using washable make-up remover discs?

It's eco-friendly!
Indeed, washing your make-up remover discs is less polluting than throwing them away every day! Not to mention the plastic packaging around disposable cottons that is also destined to end up in the trash! And finally, let's remember that our fabric which is composed of hemp allows to consume less cotton and therefore less water.
A downside!
Before applying a lotion or hydrolat, it is advisable to slightly moisten the make-up remover disc with tap water. Indeed, otherwise, the disk would absorb too much water which would spoil your lotion!
Data sheet
Conseils d'utilisation

Apply your make-up remover - the oleo-limestone liniment is fine - or soapy water on the make-up remover disc and then remove / cleanse your skin.

Précautions d'emploi :

Before using for the first time, soak the make-up removing discs for about 10 hours in cold water.

Lavage :

By hand or in the machine up to 60 °. In case of machine washing, it is recommended to put the make-up removal discs in a zip net bag.

Volume

8 discs + 1 zip net bag
No customer reviews for the moment.