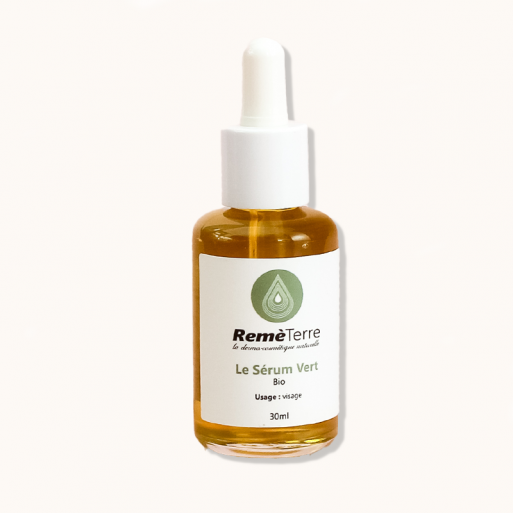  
Serum For Acne Prone Skin
The perfect serum to reduce the appearance of pimples.
The Green Serum (Le Sérum Vert) is a natural treatment to reduce pimples and other imperfections. It consists of organic essential and vegetable oils whose properties reduce excess sebum, pimples, imperfections and microcysts. Also, the plants in this serum promote the healing of pimples and help to regain a smooth skin texture. This synergy purifies and nourishes the skin deeply without leaving oily skin
Discover the benefits of vegetable oils used in this serum in the below description.
For more efficiency, it is advisable to complete your beauty ritual with The Green Soap and The Green Lotion - you can access The Green Protocol (beauty ritual with 3 products) and see a before/after photo by clicking here).
The most of this serum:
Reduce acne and other imperfections (tightens pores, purifies the skin, promotes healing...)
Made in France with organic ingredients.
This serum is Natural, Cruelty Free and Vegan.
Glass bottle with pipette.
The Green Serum has been designed to protect and balance problem skins. In addition, this treatment is a true condensed of vitamins A, C, E, Omegas 3, 6 - 9 as well as essential oils with purifying, astringent and regulatory properties of sebum
This serum is made up of the following vegetable oils:
- Nigella: purifying, it works wonders on acne-prone skin.
- Jojoba: This vegetable wax is known to regulate the production of sebum. Perfectly tolerated by the skin, it will protect your skin and maintain its hydration.
- Sea buckthorn: rich in vitamin E, carotenoids, omega-3 and omega-6, and palm-itoleic fatty acid, this oil is known as a good-looking, healing ingredient. Ideal for marked skin.
- Grape seed: This vegetable oil has astringent virtues that help tighten the pores of the skin.
- Argan: well known to all, this oil is used in this serum for these regenerating and restructuring virtues in order to fight against the aging of the skin and restore flexibility.
To enhance the action of these vegetable oils, The Green Serum contains essential oils (True Lavender, Geranium Rosat) with purifying, astringent and healing properties.
Data sheet
Conseils d'utilisation

Apply a few drops to previously cleaned and slightly moist skin. Massage your face with your fingertips in circular motions.

Précautions d'emploi :

Do not use in case of allergies to essential oils, in pregnant or lactating women. Product to keep away from light and heat.

Ingrédients INCI :

Volume

30 ml / 1,01 fl oz
No customer reviews for the moment.