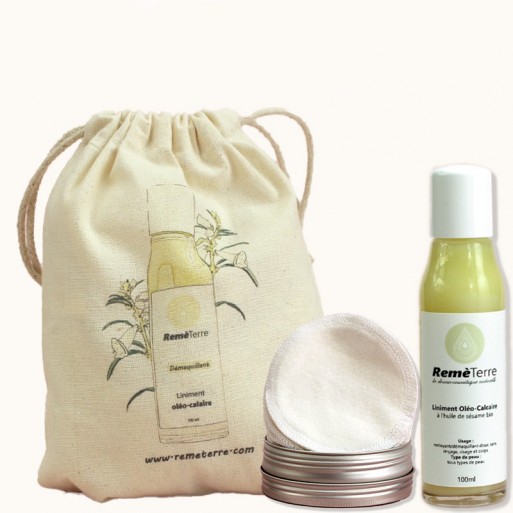  
Pack Liniment
For effective and ecological make-up removal!
This makeup remover set includes:
a makeup remover/oleo-calcareous liniment; extremely soft and creamy in texture, it removes traces of makeup and impurities in a single step. Effective even on waterproof makeup, this ultra-gentle cleanser is leave-in. It is suitable for all skin types, even the most sensitive.
8 discs in hemp and organic cotton fabric,
A zipped net bag,
A small cotton bag made in France.
The make-up remover is an oleo-calcareous liniment composed of organic sesame oil and lime water. Very effective, it will no longer be a chore to remove your makeup every night!
Forget disposable cottons with these cleansing discs in hemp fleece and organic cotton.
No more make-up removing discs scattering in your washing machine thanks to the washing net supplied with this pack.
To buy the makeup remover alone, click here.
See additional information below.
By choosing this product, you are doing several good things for nature because:
Our makeup remover is composed of natural and organic ingredients,

Hemp is a very ecological plant. Resistant to any kind of attack, no need for pesticides and other chemicals to cultivate her!
You will save at least a year of disposable cottons.

Nota Bene: our oleo-calcareous liniment has a neutral ph of between 7 and 8 depending on the lots. The skin of an adult is slightly acidic. To re-acidify the skin after using our oleo-calcareous liniment, we therefore recommend that you apply a hydrosol or our Green Lotion.
Data sheet
Conseils d'utilisation

Apply oleo-calcareous liniment on the make-up removing disc then remove make-up / cleanse your skin. For more softness, you can first slightly moisten the disc.

Précautions d'emploi :

It is advisable to wash or rinse the make-up removing discs before first use.

Ingrédients INCI :

Liniment : Sesasum Indicum Seed Oil*, Calcium Hydroxyde. *Organic Ingredient

Lavage :

By hand or machine up to 60 degrees - remember to place them in their washing net.

Volume

100 ml / 3.52 fl oz and 8 discs

Matière

Disques démaquillants : chanvre 55% + coton bio 45%
No customer reviews for the moment.