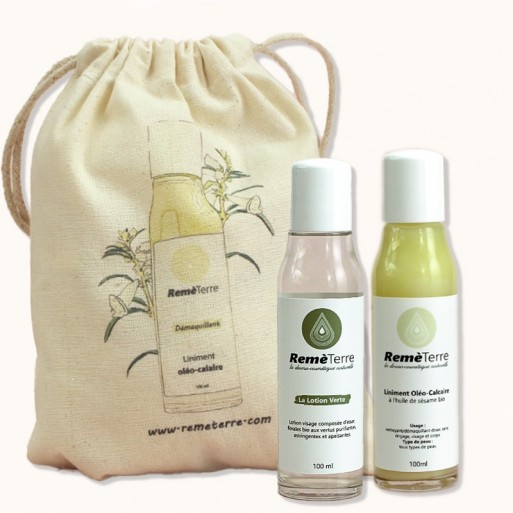  
Make-up Remover & Anti-Imperfection Lotion
Effective make-up remover + Re-balancing lotion = Hapiness moment !

Thanks to these two gestures, you will remove your make-up will become a real moment of pleasure! Indeed, although very soft, this make-up remover without rinsing is extremely effective. As for the lotion, it allows, among other things, to re-balance skin's ph. After applying these two products, your skin will tell you THANK YOU!
This make-up remover/cleanser is extremely soft and creamy. It removes traces of make-up and impurities in a single gesture. Effective even on waterproof makeup, this ultra-soft cleanser is rinsing free. It is suitable for all skin types, even the most sensitive.
Green Lotion is ideal for combination to oily skin but is also suitable for sensitive skin. Indeed, it is a synergy of organic floral waters of lavender and hazel that possess purifying properties (in order to fight pimples), astringent (helps tighten the pores of the skin), soothing (to relieve redness).
Comes in a small cotton bag, this box contains a make-up remover - a 3.52 fl oz lotion.
The most of this make-up remover pack - lotion:
Save 3€ by ordering this pack.
The bottle are made of glass - stop at the plastics that contaminate the contents.
Lotions and make-up remover are 100% natural.
The ingredients are organic.
This make-up remover is very soft and does not sting the eyes!
The lotion is composed of floral waters with astringent, purifying and soothing properties.
This pack comes in a small cotton bag made in France.
See below for other makeup remover packs available.
To learn more about makeup remover, click here.
To access the following product listings, click below:
Make-up remover pack - washable hemp/organic cotton make-up remover discs

.
Make-up remover pack - lotion - washable discs

.
Note: Our make-up remover has a neutral ph between 7 and 8 depending on the batches. An adult's skin is slightly acidic. To re-acidify the skin after using our oleo-calcareous liniment, we recommend applying our Green Lotion.
Data sheet
Conseils d'utilisation

Place a little make-up remover on a cotton pad and remove your make-up. Then apply the lotion to re-balance the skin's ph.

Précautions d'emploi :

It is important to shake the make-up remover before each use. Ideally, the lotion will keep cool.

Ingrédients INCI :

Volume

Chaque flacon fait 100 ml
No customer reviews for the moment.