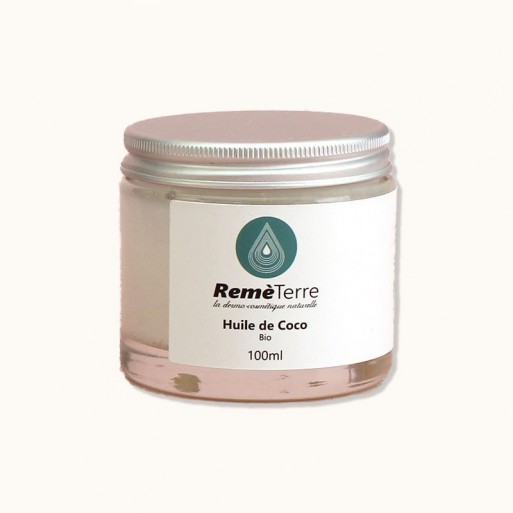  
Organic Coconut Oil
Coconut oil is perfect for softening the skin.
Coconut oil is used on the skin for its softening, emollient and protective properties. It is also used on the hair to restore shine and vigour.
Its delicious fragrance will make its application pleasant and will leave a sweet smell on your skin.
In order to preserve all these benefits, our virgin coconut oil comes from organic farming and obtained by first cold pressure.
Important:
This product is Cruelty Free and Vegan. Coconuts are picked by men, not monkeys.
See description below.
Because respect and protection of animals is also one of our concerns, we have ensured that our organic coconut oil is produced with coconuts picked by men or women, adults and trained for this work. Indeed, we refuse to participate in the torture and exploitation of monkeys.
Note: Coconut oil is solid at room temperature; to liquefy it, pass the closed pot under a trickle of hot water.
Origin: Philippines
Fragrance: delicious coconut smell
Composition:
Caprylic acid 5 to 10%
Capric acid 5 to 8%
Lauric acid 45-53%
Myristic acid 17 to 21%
Palmitic acid 7.5 to 10%
Stearic acid 2 to 4%
Oleic acid 5 to 10%
Linoleic acid 1 to 2.5%
Data sheet
Conseils d'utilisation

Gently massage the face and/or body to penetrate the oil. In a hair mask: apply the oil to the tips, let stand for at least 15 minutes and then wash your hair.

Précautions d'emploi :

Warning: this oil may be comedogenic, do not use it on the face for acne-prone skin.

Ingrédients INCI :

Coco Nucifera Oil** Organic oil

Volume

100 ml / 3.52 fl oz
No customer reviews for the moment.