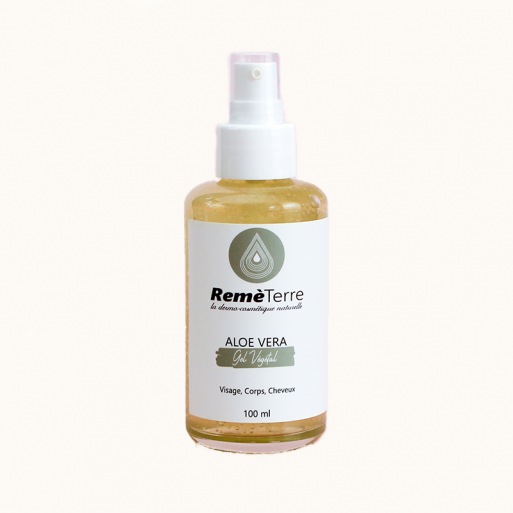  
Organic Aloe Vera Gel
Organic Aloe Vera gel is a must-have treatment!

Used for centuries for its benefits on the skin, aloe vera gel is a must have!
Soothing and restorative, Aloe Vera gel has many virtues. It relieves sunburn, calms skin irritations, helps fight the signs of ageing, promotes healing in case of stretch marks or scars left by pimples for example.
Known to combat the effects of aging, aloe vera gel is also astringent (helps tighten pores), purifying (ideal for problem skin), exfoliating, moisturizing and helps to alleviate brown spots.
Made from fresh and organic aloe vera juice, our gel is rich in vitamins, amino acids and mineral salts - zinc, magnesium, selenium... - making it an excellent antioxidant.
In addition, its light almond fragrance will gently perfume your skin and/or hair. Indeed, aloe vera gel also applies to hair to moisturize but also to style it.
The pluses of this product:
Can be applied to skin and hair.
99.25% of the ingredients are natural.
Prepared with fresh and organic native aloe vera juice.
Glass bottle to avoid contamination containing/containing,
Spray to better protect the bacteria from freezing.
More information about this gel below.
PH: 5.5
Recommendations on frequency of use:
Sensitive skin, prone to redness: 2 to 3 times a month (see explanation below).
Dry to mixed skin: 2 to 3 times a week.
Oily skin: 2 to 3 times a week or even every night if the presence of pimples or microcysts.
To reduce scarring and stretch marks: you can apply them every day and then supplement by massaging with suitable vegetable oils.
Good to know

We advise you to apply aloe vera gel overnight rather than in the morning. Aloe vera gel contains salicylic acid, which gives it an exfoliating power. For this reason, it is best to allow time for your skin to regenerate after application by staying safe from external aggressions (pollution, UV rays...).
Aloe vera gel can sometimes leave a feeling of tightness right after it is applied. Rest assured, this is perfectly normal.
Finally, as mentioned, aloe vera gel contains salicylic acid which can sometimes be irritating to sensitive skin, prone to redness. That's why we recommend using it only 2 to 3 times a month for this type of skin.
Ingredients: Organic Aloe Barbadensis Leaf Juice, Chondrus Cripus extract (algae), vegetable glycerin, Acqua (contained in natural preservatives), Naticide (natural preservative), Sodium Levinate (natural preservative), Citric Acid, Sodium Anisate (natural preservative).
Data sheet
Conseils d'utilisation

Apply aloe vera gel in the evening to the face and/or body. Massage gently to make it penetrate. It can also be used on hair.

Précautions d'emploi :

This product is intended for external use only. Don't swallow. Avoid eye contact. In case of contact, rinse thoroughly with clear water. Store in the refrigerator and use within 6 months of opening.

Ingrédients INCI :

Volume

100 ml / 3.52 fl oz
No customer reviews for the moment.