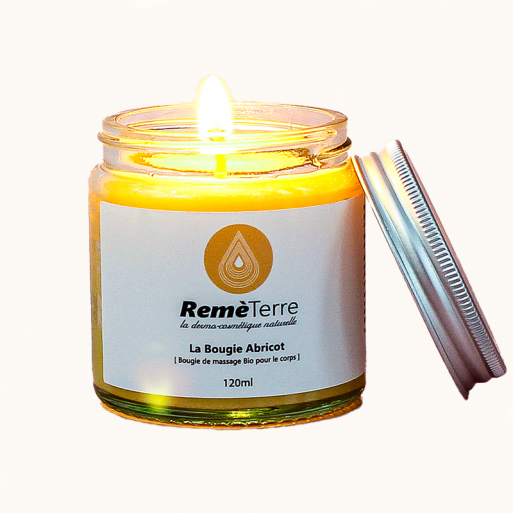  
Organic massage candle
The 100% natural and organic massage candle!

The Apricot Candle takes you into a world of relaxation and wellness. Its subtle apricot fragrance on a sweet and spicy background of cinnamon, mint and ginger will delicately perfume.
After a few minutes, the candle turns into a lukewarm precious oil for a 100% pleasure massage that soothes, nourishes and softens your skin.
The massage with this candle is a special moment that allows you to relax while stimulating your body and its natural defenses thanks in particular to the essential oils of cinnamon, niaouli, savory and cypress.
100% natural and organic, the candle is composed of shea butter, apricot vegetable oil and organic beeswax. All three are known for their nourishing and protective properties. Thanks to its synergy of essential oils, your skin will remain delicately scented.
A little extra: the candle's wick is also natural since it is made of organic cotton.
Don't hesitate to create an atmosphere conducive to relaxation by sifting the light and putting appropriate music!
This body massage candle is composed of natural and organic ingredients.
Composition: Shea butter, apricot vegetable oil, beeswax, eucalyptus globulus essential oil, essential oil of cypurus globulus, cypress essential oil, nutmeg oil, peppermint essential oil, ceylon cinnamon essential oil (bark and leaf), clove essential oil, niaouli essential oil, basilicum essential oil, rosmarin essential oil, ginger essential oil, savory essential oil (all ingredients are organic).
The essential oils in this candle offers two advantages. In part, they bring a natural fragrance but above all, many of them opostent owners who stimulate the body and natural defenses. This is particularly the case for essential oils of cinnamon, niaouli, cypress and savory.
Why did we choose these essential oils?

The Savory and Niaouli essential oils boost immunity which is ideal in winter. In addition, niaouli favours blood circulation as well as Cypress essential oil. Both are widely used to have light legs. Cinnamon in addition to being stimulating is also known for being aphrodisiac just like ginger.
What are the benefits of beeswax?

Organic Beeswax is a natural shine and moisturizer making it a great ally for dry skin. Solid at room temperature, beeswax allows molecules of different types of oils to be combined as it melts. Also, it keeps moisture on the skin and forms a protective barrier to keep hydration. It also has anti-inflammatory properties.
Data sheet
Conseils d'utilisation

Précautions d'emploi :

Ingrédients INCI :

Volume
No customer reviews for the moment.