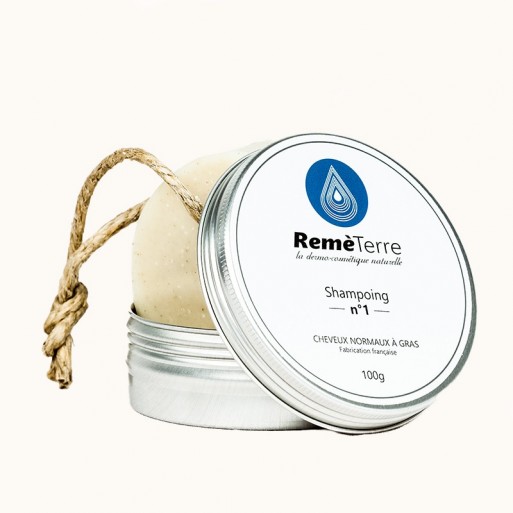  
Natural and organic solid shampoo
The solid natural and organic shampoo that immerses you in the south of France!
The shampoo number 1 is handcrafted; it is suitable for all hair types. Thanks to essential oils, rhassoul and white clay, it will purify the roots of the hair and allow the shampoos to be spaced.
The synergy of rosmery cineole, lemon and lavender essential oils offers a delicate fragrance to this shampoo in addition to sanitizing the scalp, strengthening the hair and bringing them shine.
Very convenient to take away and allowed in your carry-on luggage; if you fly regularly, this solid shampoo is a "must have"!
This solid shampoo is also soft on your beard and skin. Therefore, it can be used as a beard shampoo or shaving soap for example.
The most of this shampoo:
Connected to a rope to hang it so it can dry.
Packed in an aluminum box to make it easier to carry.
1 shampoo - about 70 to 80 washes.
This shampoo is Natural, Cruelty Free and Vegan. 
Note Bene: This shampoo has been tested and approved by the online magazine "Men's Aesthetics" - magazine created and supervised by a doctor who specializes in cosmetic care.
The composition and benefits of this shampoo are:
- White clay and rhassoul: are both known to absorb excess sebum and impurities.
- Vegetable oils of coconut, olive, rapeseed, ricin: ricin oil has forfiant virtues, regenerations and it promotes hair growth. Coconut oil brings a pleasant foam to shampoo
- Shea butter: nourishes the hair and brings softness.
- Essential oils of rosemary, lemon and lavender: purify hair and bring shine.
Data sheet
Conseils d'utilisation

Lather this shampoo between your hands and apply it to wet hair. Rinse. For long hair, it is recommended to make a second shampoo and rinse the hair thoroughly all the thickness.

Précautions d'emploi :

This product contains essential oils. It should not be used in pregnant or lactating women or children under 6 years of age. If you have contact with your eyes, rinse thoroughly.

Ingrédients INCI :

Volume

100 g/ 3.52 fl oz
No customer reviews for the moment.