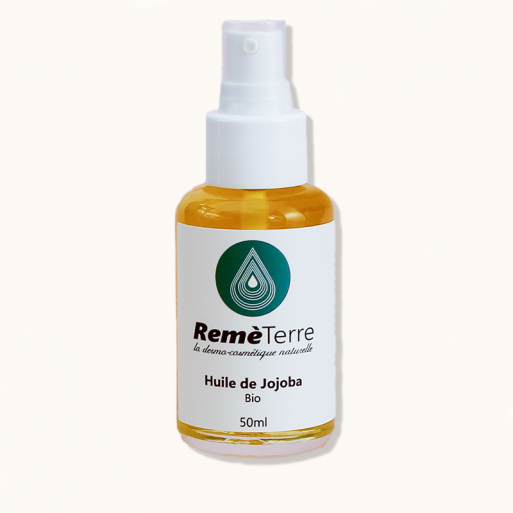  
Jojoba Organic Oil
Jojoba oil is an INDISPENSABLE!
Protective and softening, Jojoba oil is suitable for all skin and hair types. Indeed, thanks to its composition close to the human sebum, this oil is very well tolerated by skin and hair.
Nourishing, it penetrates deep into the skin without leaving an oily skin. It is an oil also known to regulate sebum secretion and thus significantly reduce the appearance of pimples. It provides suppleness, brightness and protection to the skin. In addition, its regenerating properties make it an effective asset for anti-ageing care.
Sometimes used as a makeup remover, for this purpose, we recommend using our makeup remover/oleo-calcareous liniment remover which will be more effective.
The most of this oil:
Organic oil obtained by first cold pressure.
Suitable for all skin and hair types.
Regulates sebum production.
Perfect for acne-prone skin and to tighten dilated pores.
Protects dry skin.
It can also be used on the beard.
Easily penetrates without leaving an oily skin.
See description, below, for more information.
Jojoba oil is actually a liquid wax extracted from the seeds of Jojoba. These seeds come from a tree called "wild hazelnut" or Jojoba that grows in South America.
Nicknamed "the gold of the Incas", Jojoba oil is known for:
Prevent dehydration,
Revitalize the skin,
Protect the skin from aging,
Take care of the hair and beard.
Its dry texture allows this vegetable oil to penetrate quickly. Also, thanks to its composition close to the human sebum, it helps to strengthen the hydrolipidic film and regulate the sebum flow of oily skin.
Non-occlusive (which does not clogged pores) and non-comedogenic, RemèTerre organic jojoba oil is the recommended vegetable oil for oily, acne-prone skin.
Finally, Jojoba oil helps to rebalance oily hair and restore vitality to dry and brittle hair. It will bring shine and suppleness to your hair.
Origin: Argentina
Smell: sweet, slight nutty smell
Composition:
Oleic acid 5-15%
Gadoleic acid 65-80%
Erucic acid 10-20%
Data sheet
Conseils d'utilisation

Apply this oil to the face and/or body and massage gently to make it penetrate. Jojoba oil can also be used in application on the tips of the hair.

Ingrédients INCI :

Simmondsia Chinensis Seed Oil** Organic vegetable oil and obtained by first cold pressure.

Volume

50 ml/ 1,75 fl oz
No customer reviews for the moment.