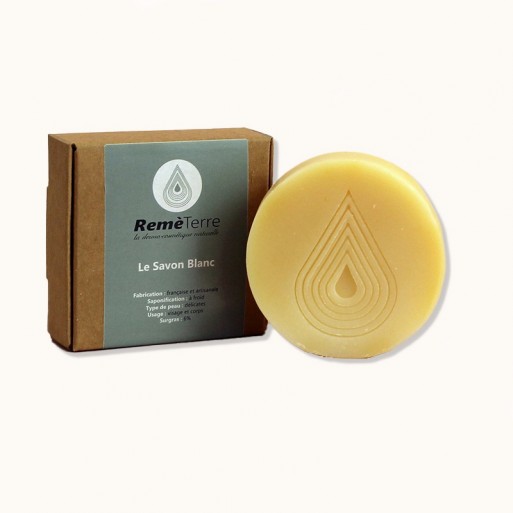  
Natural Mild Soap
The soap for all kind of skin.


The White Soap (Le Savon Blanc) is suitable for the whole family and even for pregnant women!
This soap has been formulated to wash delicate skin. The whole family can use it including children. Therefore, it does not contain perfumes or essential oils.
The combination of shea butter, coconut vegetable oil, olive vegetable oil and rapeseed vegetable oil gives this soap emollient, softening and protective virtues.
Made from raw organic ingredients, this product respects both your skin and the environment.
The most of this soap:
Cold saponified and Superfat: 6%

Does not contain essential oils and can be used by the whole family!
Made in France, artisanally and with raw organic ingredients,
Natural, Organic, Cruelty free and Vegan.
Cold saponification makes it possible to produce glycerin naturally during manufacturing and thus to dispense with glycerine from petrochemicals.
The smell of this soap is neutral because it contains neither perfumes nor essential oils.
To respect health and the environment, this soap is made from vegetable oils from organic farming.
Ingredients: Organic shea butter, organic extra virgin olive oil, organic rapeseed oil, organic coconut oil, glycerine (naturally produced during cold saponification).
Data sheet
Conseils d'utilisation

Lather the soap with some water. Rinse.

Ingrédients INCI :

Volume

100 g
No customer reviews for the moment.