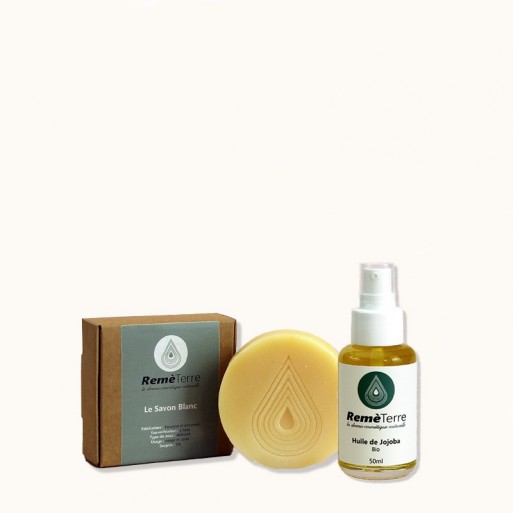  
Natural Soap & Organic Jojoba Oil
The perfect duo for a beautiful skin !

The White Soap RemèTerre washes your skin gently. Without essential oils or perfumes, it is suitable for the most sensitive skin. Handcrafted by cold saponification (superfat 6%).
Jojoba oil is suitable for all skin types and can also be applied to hair. It is protects the skin and nourishes it. Day after day, the skin is softer. A little more of this oil: it regulates the sebum production and helps to tighten the dilated pores.
The most of this pack:
These two products are suitable for all skin types even the most sensitive!
The Jojoba oil bottle is made of glass.
Soap is made from organic raw ingredients (see composition below).
Jojoba oil is organic.
These products are Organic, Cruelty Free and Vegan.
Soap composition: Organic shea butter, organic extra virgin olive oil, organic rapeseed oil, organic coconut oil, glycerin (produced naturally during cold saponification).
Cold saponification allows glycerin to be produced naturally during manufacturing and thus to do without synthetic glycerin.
The smell of this soap is neutral because it contains no perfumes or essential oils.
Very soft for the skin, The White Soap is suitable for the whole family (including baby)!
Data sheet
Conseils d'utilisation

Wash the skin with The White Soap and dry it gently. Apply jojoba oil, massaging the skin.

Ingrédients INCI :

Simmondsia Chinensis Seed Oil: huile végétale issue de l'agriculture biologique et obtenue par première pression à froid. Savon : Sodium Shea Butterate*, Sodium Olivate*, Sodium Cocoate*, Sodium Rapeseesate*, Aqua, Glycerin**, Butyrospermum Parkii Butter*, Olea Europaea Fruit Oil*, Brassica Campestris Seed Oil*, Cocos Nucifera Oil* * Ingrédient issu de l'agriculture biologique. **Naturellement produite lors de la saponification à froid.

Volume

50 ml & 100 g (1.76 fl oz & 3.52 fl oz)
No customer reviews for the moment.